Machine Skates for Heavy Duty moves
Our range of steerable and adjustable heavy duty machine skates are ideal for moving heavy machinery & equipment weighing up to 20 tonnes, over short distances. Our focus on quality means a superior product build for easy safe usage, reliability and longevity delivering excellent value.
Use our adjustable machine skates with our steerable skates series (SKSTSKHD). Any questions at all call us – we are ready to help.
• Large diameter rollers – for good, even weight distribution offering maximum floor protection
• Quality thrust bearing – the platform swivels on this for steering around tight bends (steerable skates)
• One metre draw bar – included for even easier manoeuvring (steerable skates)
• Rubber non-slip pad – fixed on the platform to reduce risk of load slippage
• Range of capacities – available in a convenient range of up to 20 tonnes.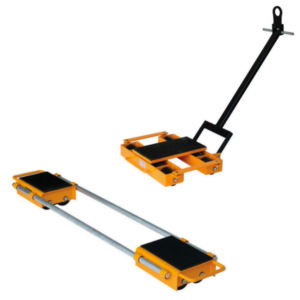 Showing all 15 results