Floor Locks / Truck Locks
Specially designed devices to hold trucks or trolleys in a fixed position during loading or unloading. They are designed to enable a quick and easy change between the locked and free movement modes.
The principle on which the locks work requires a constant gap between the unit and the floor, so it is best to mount the truck lock close to a castor, ensuring that it does not interfere with the free movement and operation of the castor. This is critical to correct operation – mounting pads, between the top plate and underside of the trolley, may be necessary to achieve this.
A step down foot-operated pedal moves a skid resistant rubber pad into friction contact with the floor surface. This is done with a spring-loaded over-cam mechanism that does not lift the load and keeps the operating force low. It also means the load rating of the trolley is not relevant to the truck lock. A second step down pedal raises the footpad.
The limited number of parts means there is less to maintain or go wrong. Where a trolley has four swivel castors, two truck locks are required – one to be fitted as each end, either on the same side or diagonally opposite. Only one truck is required at the swivel end of a trolley that has two swivel and two fixed castors.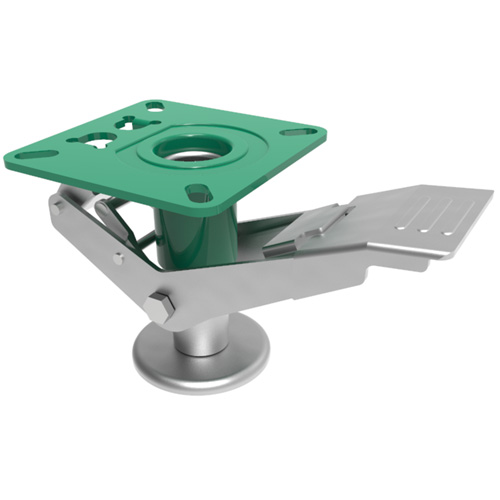 FILTERS
Use the filters below to narrow down your choices and find the perfect solution.
Showing all 16 results