Skoots® Moving Systems
What are Skoots®?
Skoots® are a hydraulically controlled portable moving system. They enable products to be lifted from the floor, using hydraulic jacks, and onto castors which allows safe, easy movement in any direction. Skoots® lift loads of up to 5000kg, with the ability to accurately and precisely position items, using the four swivelling castors and hydraulic jacks.
Where are Skoots® used?
Skoots® are used to easily move large, bulky or heavy loads including cabinets, crates, safes, cash dispensers, air conditioning units, display units, worktops, cupboards, furniture, vending machines, refrigeration and freezer units, control panels and other industrial equipment in a variety of settings. Examples of these include:
Air conditioning installation and maintenance
Commercial refrigeration
Security safe installation
Switchgear panel manufacture and installation
Museums and galleries
Hire shops – speciality lifting equipment
Data cabinets and server equipment
Machinery installations
Vending machine installation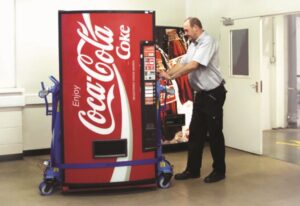 In addition, using Skoots® allows the smooth lift and shift that is needed to lift large fragile items such as photo booths, paintings, sculptures and glass display cabinets and any other delicate items which require careful handling.
Benefits of using Skoots®
Safety
Skoots® are safe and easy to use. They allow products to be moved with greater safety and controlled movement than skates, dollies and pallet trucks. The Skoots® moving system relies on hydraulic jacks to do all the lifting and lowering, greatly reducing the risk of injury to the operator. In addition, the load only has to be lifted about 15mm for the toe plates to be positioned increasing the stability.
Easy to use
The Skoots® moving system is extremely easy to operate, with minimal training. With the use of hydraulic jacks to raise and lower loads, lifting is effortless for the operator. Our ergonomic upright handle design means that Skoots® are pushed in a more natural, comfortable position making it easier for the user when moving loads.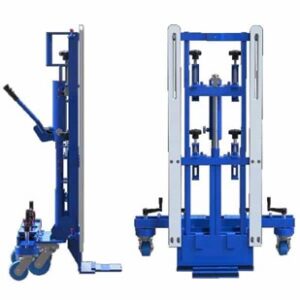 Move heavy things efficiently
Using Skoots® to move heavy loads will save you both time and money as they need less manpower to operate and will do the job quicker and more safely than other lifting and moving systems, thus reducing injury risks and accidental damage to equipment or staff.
Hydraulics – effortless lifting
The hydraulic handle simply needs to be pumped to raise loads, and once moved into the desired position the load can be easily lowered using the valve wheel. Skoots® does all the hard work!
No slipping or sliding – secure movement
Heavy duty straps are supplied to fasten the load tightly to the Skoots® to prevent the load slipping or sliding as it is moved. This enables Skoots® to transport heavy, bulky items across a range of terrains without the load shifting even over uneven, rough ground.

For extra safety, each jack is fitted with a pressure relief valve for additional overload protection. Thus, the load can be moved in any direction safe in the knowledge that it will not slip under normal circumstances.
Manoeuvrability – safe, precise movement
Skoots® are easy to manoeuvre. The four, smooth-running swivel castors have precision bearings for minimum rolling resistance. They allow for 360o rotation of heavy loads offering precise manoeuvring and controlled steering around corners and obstacles. Skoots® castors are fitted with industry leading four-way directional locks giving ultimate control in tight spaces and on floors with a gradient. This means that doorways, corridors and similar restrictions can be negotiated easily and safely.
Tall loads
Using Skoots® only adds a few millimetres to the height of the load which helps greatly when moving taller items through doorways.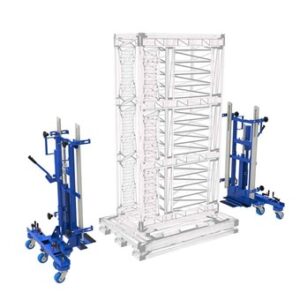 Easy to transport
Skoots® are compact making them easy to transport when they are needed to be used in different locations for moving heavy goods.
Why choose BIL for Skoots®?
Simply because they are the original and still the best! Skoots® have been a go to product for many industry specialists and we are proud to manufacture and supply such a renowned range.
The philosophy and brand values for BIL are – quality, innovation, service and flexibility. The Skoots® brand stamp is our guarantee of high quality products which are built to last.
We regularly test our Skoots® range both in the field and in test facilities, as part of a continuing process of refining and improving their reliability and lifespan.
At BIL, we recognise the importance of understanding the needs of our individual customers. We know that one size does not fit all and that each application is completely unique. At BIL Materials Handling, we have many years of experience in dealing with a wide variety of applications and customer requirements. BIL can offer tailored solutions to our customers' requirements and challenges through:
Consultation – The most critical first step is to gain a full understanding of the application and the needs of the customer
Solutions – We will provide the most Fit for Purpose Solution
After Sale Care – As well as supplying a product with a long service life we aim to offer a personal service throughout
Built to Last
By adopting a cross-functional approach to product and process design (APQP Advanced Product Quality Planning) involving the use of CNC Machining Centres, CNC laser profiling and brake presses, combined with skilled machinists and coded welders, we ensure that all component parts are produced to the highest quality standards.
Our original Skoots® are made up of two separate sections: the mainframe and the toe plate. In over 30 years of service, we have never heard of a reported failure and this is backed by our 5-year guarantee on both the main frame and the toe plate. Cheaper systems that are available are inferior copies of Skoots®, with welded metal straps used to hold the toe plate to the mainframe. Such straps are subjected to huge stress and consequently can break. At BIL, we always manufacture to the highest standards and never compromise on quality.
The dimensions of the toe plate are vital on Skoots® – too small and the load is likely to fall off; too large and it will not go under the load. Skoots® toe plates are ideally designed to be 380mm wide x 120mm deep. Many imported copies have wide plates but with minimal depth which can cause huge issues – if the plate is not deep enough then the moving system become unusable.
With Skoots®, our hydraulic jacks (the part that does most of the work) have been designed especially for us and tested in very arduous conditions. With cheaper imitations, poorly designed hydraulic jacks seals often leak and spare parts can be difficult to obtain.
For our paint finish, we use a specialist hard powder coating that can only be applied correctly by around three powder coaters in the south of the UK! This is not powder coating, as most people know. It is extremely hard wearing and if the product is damaged and steel is exposed, our coating will not 'lift' around the scar as the steel oxidises providing much more durability.
BIL Skoots® moving systems are hard to beat!
Cheaper alternative moving systems can be inferior with no directional locks; uncomfortable control handles; two-section frames held by over-stressed metal straps; shallow toe plates allowing the load to dislodge; weak jacks with poor seals and unreliable spare part supply and are often wet painted rather than specialist hard-powder coated. Remember – you get what you pay for! Buy genuine Skoots® for years of service.
Need help? Just contact us – we would be delighted to hear from you. Want a free Skoots trial? Call us today 01249 822 222