Floor Cranes
Let the Crane take the Strain.
Safe Efficient Handling of Heavy Loads. All floor cranes in stock now.
What are mobile floor cranes?
A floor crane is a sturdy, robust piece of materials handling equipment that can lift, lower and move heavy loads in a similar way to any other crane. They are designed to be used for lifting where there is no overhead lifting position available and so the floor crane has a hook attached to an arm (jib) which allows the load to be suspended and then manoeuvred. Mobile floor cranes are simply smaller versions of industrial cranes.
Why use floor cranes?
Floor cranes are essential for any workplace where heavy or awkward loads need to be lifted easily and safely. They are stable without the need to secure them to a wall which means that they are mobile and can be used in different locations within your workplace. Their compact design makes them ideal for use in small spaces. The use of floor cranes, or workshop cranes, reduces the risk of injury to workers, by removing the strain related to the manual handling of heavy loads.
Where are mobile cranes used?
Floor cranes are used anywhere that requires heavy loads to be lifted, hoisted, positioned or moved. They can be found in :
Warehouses
Manufacturing industry
Automotive industry
Construction industry
Factories
Workshops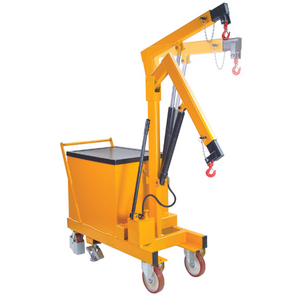 How do floor cranes work?
Floor cranes can often look overwhelming when it comes to how they work but they are actually very simple. If we take a look at our counter balance cranes as an example, the load is secured by fastening the item being lifted to the hook on the crane. The hook can be moved into one of three positions dependant on the size of the item.
Once fastened securely, the crane arm can be lifted by using the pump handle and taken up to the required height. To lower the item, the release valve is turned and loosened therefore freeing the hydraulics and gradually lowering the product down.
On the counter balance cranes it is important to note that weight capacities change dependant on the arm position and also it is important to understand the counter balance weight required in cohesion with the item being lifted.
BIL floor cranes
Our range of floor cranes includes:
Fixed workshop cranes – with load capacities from 1000kg to 3000kg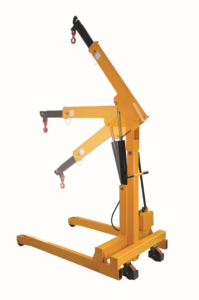 Folding floor cranes – with load capacities from 250kg to 2000kg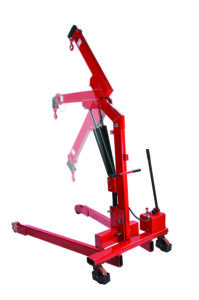 Counterbalanced floor cranes – with load capacities from 152kg to 2000kg
BIL's mobile counterbalance cranes are ideal for workshops. They give the operator complete freedom of movement at the front lifting area. The 3-position telescopic jib provides versatility and the swivel polyurethane castors allow for easy on-the-spot turning, useful when floor space is tight. They are perfect in environments where the floor space is restricted by floor level objects, allowing the operator to work very close to obstructions as they do not have any front legs.
See our full range of workshop floor cranes here.
For advice and guidance on floor cranes, please call us on 01249 822 222 and we will be happy to discuss your requirements and recommend a suitable floor crane for your application.