Why Alutruk?
Premium quality sack trucks. Built for you. Built to last!
BIL are a manufacturer to ISO 9001:2015 accreditation and are the UK's leading developer of modular aluminium hand trucks. Quality is paramount to us, delivering this means we enhance the AluTruk® brand reputation while providing real solutions to the needs of our customers. This builds and retains trust throughout your entire journey with AluTruk®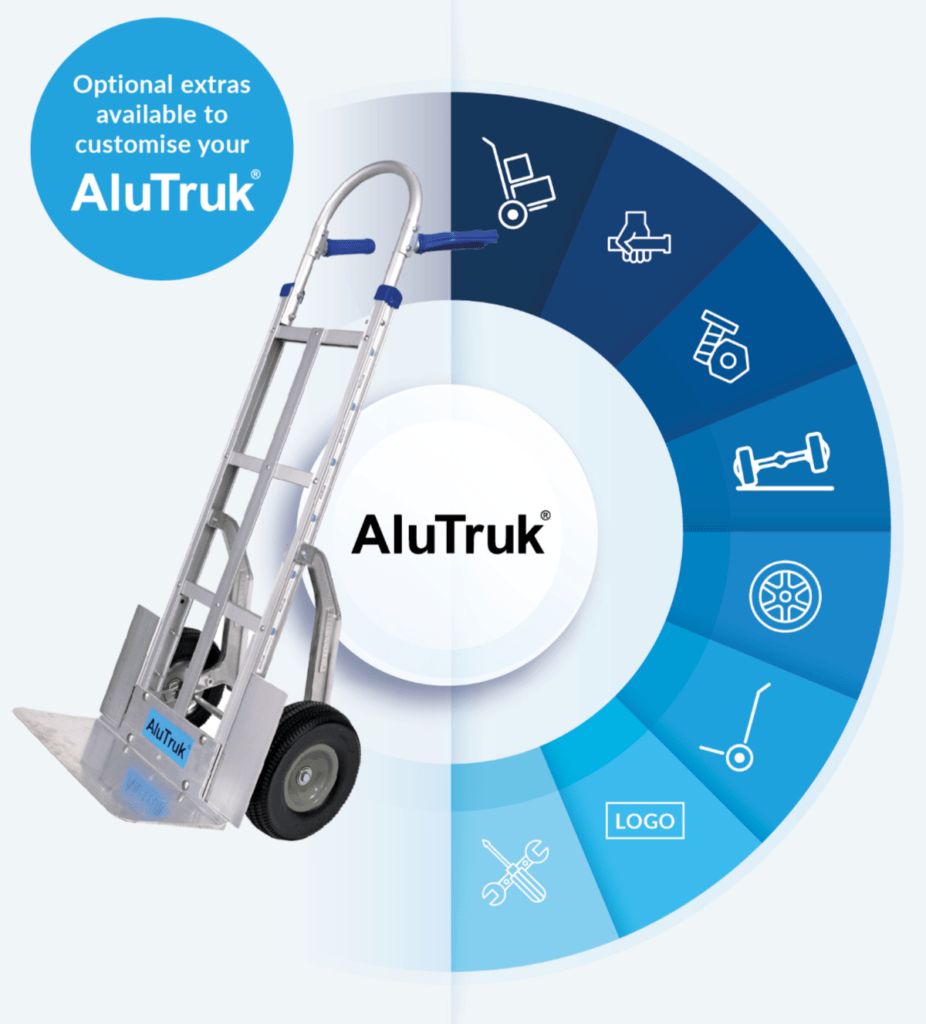 QUALITY ASSURANCE
Each and every AluTruk® is hand built to order by skilled operators who perform numerous quality checks prior, during and after manufacture.
The AluTruk® brand stamp is a guarantee of the highest quality and our assurance that our modular trucks are built to last.
---
Superior Features
Frame
We only use premium quality structural aluminium for extruded parts for its high strength-to-weight ratio. The most suitable alloy has been chosen for tensile strength, density, ductility, formability, workability and corrosion resistance.
Handles
AluTruk® handgrips stay on the sack truck and once fitted correctly, our nylon grips are virtually impossible to remove without cutting tools! Durable handle options including P-Handle, Twin grip and single loop.
Fixings
UK-sourced fasteners for superior strength and longevity to maximise durability.
Axle Brackets
Magnesium alloys axle brackets which are less brittle and more impact resistant than standard die cast aluminium. Designed from our own tooling!
Wheels
Our one-piece pressed steel hubs are made from 1.8mm coated steel for maximum durability available with puncture proof tyres for reduced downtime.
Toe Plates
Extruded aluminium design for maximum strength. Options of fixed or folding in a range of sizes.
Branding
We offer personalised branding - add your company logo down the side of each AluTruk®.
Spares and Repairs
ALL parts of the AluTruk® are replaceable saving on both cost and downtime within your fleet! We don't expect to see this being needed until a long time after purchase but it's good to know the option is there!
Tried and tested, BIL and AluTruk are brands that you can rely on for quality, innovation, service and flexibility.
Telephone 01249 822222 or email sales@bilgroup.co.uk.