BIL Group Win a National Award!
October 6th, 2023
BIL Group – the UK's leading manufacturer of castors, wheels and material handling equipment – are now an award winning company winning the Best Company to Work For award in the UK Manufacturing Awards 2023!
Hosted by the Business Awards UK, this prestigious award goes to the manufacturing company that best prioritises employee well-being, fosters a positive and inclusive work culture, offers growth opportunities, and creates a supportive environment making it an exceptional workplace for its employees.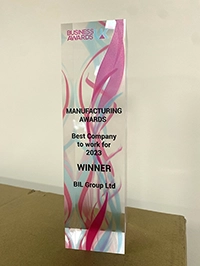 Our staff are BIL Group's most important asset, all of whom hold a collective vision of how the company is presented.
Many have been with the group for over 10 years, and some over 40!
We operate with four main core values – Quality, Innovation, Service and Flexibility – and these form a foundation for everything we do across the entirety of the organisation.
This award is dedicated to our highly skilled and wonderful staff, whom make up the heart of BIL Group.
Without them our company would not be the success it is today, and has been for over 50 years. Congratulations BIL Group!